If you are a frequent shopper on ZoomIn we hope you've realized that we are very committed to the idea that your photos belong to you. While we try to do a lot online to support that ideal, we have also tried to carry that same value in every product that you create. You may have noticed, for example, that our t-shirts do not carry our logo anywhere. We wanted your t-shirt to be about your photo and your creativity.
However, soon after launch, we received several requests from our customers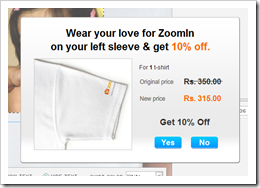 asking how they could buy a ZoomIn logo shirt. One of our engineers, Sundar, suggested, "Why not let our customers decide if they want a logo or not?"
One thing led to another and now you get to choose whether to include the ZoomIn logo on your shirt or not. After you have created your shirt and are ready to add it to your cart, a pop-up will ask you if you want our ZoomIn logo on the sleeve of your shirt. If you choose to include our logo, you get a 10% discount as our thanks for showing your support of ZoomIn.
We plan on doing the same in more of our new digital photo products so please let us know what you think of the idea. And, as always, thanks for your support of ZoomIn.
.