Unfortunately, there were no long lines in India for the iPhone 3G launch. But for those who did venture out over the weekend, there is a bit of ZoomIn you can add to your prized phone.

ZoomIn for iPhone is now available for download in the App Store. The application is the simplest way to upload photos from your phone to your ZoomIn account. Either use the Camera to take a new picture or go to Photo Albums to upload a photo from your camera roll or other albums.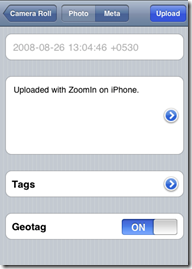 Click on Meta to change the photo title (it's set to the current date by default), add a description or tags. Also included in the application is geotagging support. This feature has not been exposed on ZoomIn yet – but will be shortly. More on that soon.
Clicking on Upload will send the photo to your "My Uploaded Photos" album. 
Remember this is V1 of the application. The focus was simplicity and easy uploads. Look for new features and additions to the application soon. Those who have installed the application will automatically get notified of updates via the App Store.  Let us know if there is something in particular you would really like to see added.
ZoomIn for iPhone was built by Martin Gordon using the ZoomIn API. The API is in closed beta right now and will be released for general use shortly. Stay tuned for an announcement on this right here. Can't wait? Send an email to developer@zoomin.com describing your application and we will send you more information.