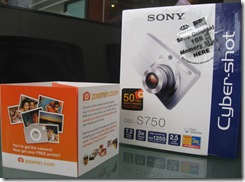 We are very excited with our amazing tie-up with Sony. Starting about 2 weeks ago if you bought a new Cyber-shot from Sony, you may have noticed a sticker on the box. Inside, in addition to the ultra-cool camera, you will find a set of offers from ZoomIn. We have included coupons for 50 free prints and two coupons for 25% off on gifts. Also included are a set of tips to get the most from your new camera.
Start uploading some pictures and we will immediately recognize your new camera. If you have one of these  new Cyber-shots, we will give you tips and other helpful links on your new camera – all while you upload.
If you are in the market for a new camera, take a look at the new Sony Cyber-shot. They are superbly designed and take great photos.