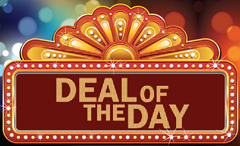 As a year end gift to all our members, this week we have been running a special member only promotion – The Deal Of the Day.  One great offer – valid for that day only and in limited quantities. 
The response has exceeded every projection possible in terms of interest and members coming in every day to try to be the first to get the deal.  However, what was not cool is to have members who have been with us since the very beginning writing in because they missed out  as the deal sold out in under 4 minutes. 
Our first deal (The ZoomIn Coffee Mug) sold out in about 7 minutes.  The next (T-Shirt) 4 minutes.  The third – where we added thousands more poster calendars sold out in about 7 minutes.  Clearly we needed to do something different.  So here is our revised plan. We have made EVERY member of ZoomIn (who has registered as of December 24th) eligible for the Deal of the Day.   We have not changed the Deals – each deal is still (a ridiculous) 90% off the regular retail price.  We have also revealed all the deals in advance so you can plan your purchases.  Claim your deals in advance, get the codes in your e-mail any time.  Come back to the site at any time after midnight on the day of the deal to redeem your coupon.  For all our new members, who registered after the 24th, we are sorry that you cannot participate in this sale.  We will be adding a special Deal of the Day just for you very soon.
From all of us at ZoomIn – our warmest wishes for a wonderful holiday surrounded by family and friends!