Just introduced on ZoomIn are two fantastic options when your order is a gift for someone.  Gift Message Card is a high quality card that will be printed with your own personal message.  This card is included with your order and is a great way to send a short note to the person receiving the gift.  For just Rs. 30 per card, you can select from 3 stylish templates and include a personal note. 
We will print your Message Card on high quality note card stock and enclose it in a custom envelope.  Order your card during checkout – pick a style, enter your message and you are all set!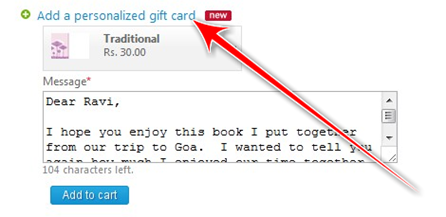 We have also launched a Gift Wrap service where your order will be expertly wrapped in beautiful Gift Wrap.  It adds that special touch when shipping a gift directly to a loved one.  All Gift Wrapped items are securely packaged in an extra layer of packaging to protect the wrap from damage during transit.   Select from 6 wrap styles – created for every occasion.  You can add this service in Checkout, after you enter a shipping address.