As part of our ongoing promotions on Facebook, we are thrilled to offer all fans a great deal on the ZoomIn Flipbook.   All fans now can order a 20 page ZoomIn Flipbook for under a hundred bucks.  Plus if you share this offer – and help us spread the word – you also get free shipping on the book.
The ZoomIn Flipbook is a soft cover photobook that is sized like a magazine (8.5 inches wide and 11 inches tall).  It is perfect for creating a book with moments of love, magical expressions of your baby or delightful memories from your vacation.  Like all ZoomIn photobooks, you can customize the Flipbook to have dozens of photos and use our built in themes to quickly add style to your book.
For all those new to ZoomIn Fan Deals on Facebook or those needing a hand in getting started, here is the "super detailed" process to get your discount.
Before you get started:
You need a Facebook account (if you don't have one go to facebook.com to sign up).  Or ask a friend or relative to help you out – pretty much every one in the world has an account.
You need a ZoomIn.com account – its free and takes 10 seconds to get one at www.zoomin.com/signup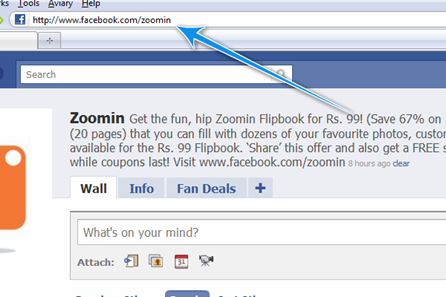 Step 2:  Click on "Like" to become a ZoomIn Fan (skip if you are already a Fan)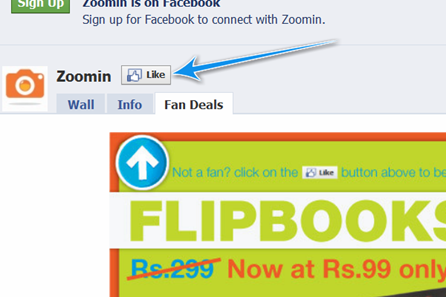 Step 3:Click on "Get Started" after you are a fan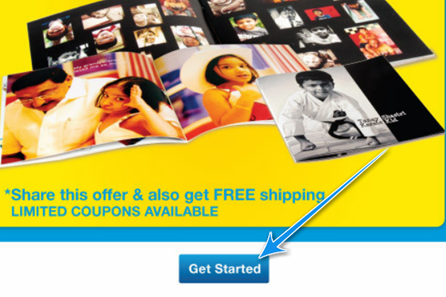 Step 4:  Time to Get My Deal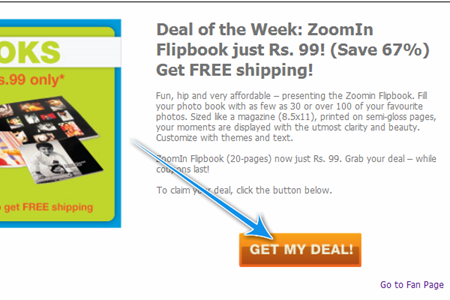 Step 5: You now have your Rs. 99 Flipbook coupon code. 
If you do not want Free Shipping or are uncomfortable sharing this offer with your friends – skip to the end of this post.  You are done.
If you want Free Shipping, Click on Share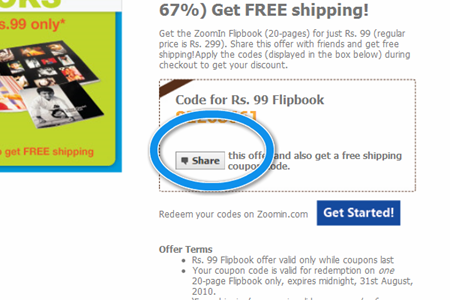 Step 6:  Allow ZoomIn to Publish this offer to your Wall.
You will have a chance to preview/edit the message and also skip this step.  You can also delete this post and remove permission later.   This will also be the ONLY post made on your behalf.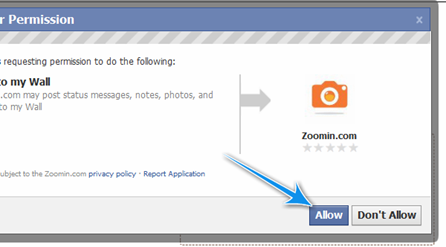 Step 7:  Preview / Edit the post.  Click on Publish if you are are fine with the post.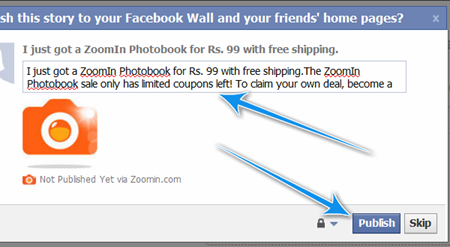 You are done!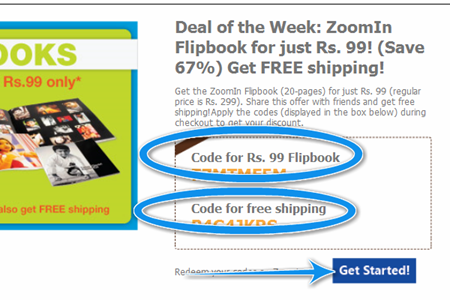 Now you will have 2 coupon codes (just 1 if you did not share the offer).  Save these codes some place.  If you lose them, you can go through the process again (from Step 3 on) and you can retrieve your codes.
To redeem your codes, you need to first build your 20 page Flipbook and add it to your shopping cart.  If you are new to ZoomIn, start by signing in and adding all your photos to your ZoomIn account.  Then visit: http://www.zoomin.com/flipbook
and then click on Start your Flipbook.  You will be taken through the steps of creating your book.  Remember to Click on Customize in Step 4: Edit your Project to add more than 68 photos and get even more control.  When finished, click on Add to Cart and then Checkout.
During Checkout, after adding your Shipping Address, apply both the codes you received on Facebook.  The first one will reduce the Flipbook price from Rs. 299 to Rs. 99 and the second one (if you have it) will get you free shipping to any one address in India. 
And that's it!   Your great Flipbook will be printed and shipped to your address in days.  If this is a gift, make sure you add a Gift Message Card to your order.
As usual, Fan Deals conditions apply.  Here they are:
Once you have your coupon codes, they will be valid for redemption till August 31, 2010.  However, there are limited number of codes available so do claim them early.  
Only one 20 Page Flipbook at Rs. 99 please.  Also if you share the offer, the Free Shipping coupon is valid for shipping in India only.
Deals are limited to one use by each Fan. Multiple redemptions by the same Fan will disqualify you for any future Fan Deals!
This offer cannot be combined with other ongoing offers on Zoomin.com