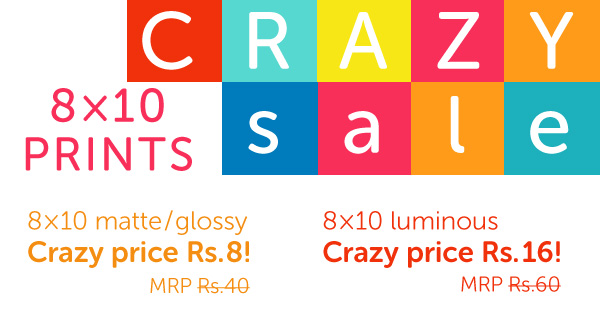 There is no better time to print your best Summer moments from a recent holiday or get-together than now! Get up to 80% off on 8″x10″ Photo Prints in any one of 3 gorgeous finishes.
Matte / Glossy prints now Rs. 8 / 20 cents (regular price Rs. 40 / $1.00) and Luminous finish prints just Rs. 16 / 40 cents (regular price Rs. 60 / $1.50). (Prices indicated are per print)
Classic Matte – for a professional touch, works well with black & white images, resistant to finger prints and smudges
Shiny Glossy – make your photos pop, ideal for everyday photos
Pearlescent Luminous – our latest finish, experience higher gloss, bolder and richer colours with a shiny pearlescent finish to your pictures
Expect professional quality photo prints from ZoomIn – we use the best High Definition (HD) photo processing equipment in-house, that money can buy, and professional grade photo paper from Kodak.
With flat rate charge of just Rs. 45 / $1.00 and superfast delivery anywhere in India – order any quantity of photo prints for yourself and gift a set to friends and family you miss dearly.
To get your discount, apply coupon '8X10MG' (matte / glossy finish) or '8X10LUMIN' (luminous finish) during Checkout.
Hurry, sale ends 25th June, 2011.
Offer Terms
There's no limit to the number of times you use this offer
Offer ends at midnight, 25th June, 2011
This offer cannot be combined with other ongoing promotions on zoomin.com
Flat shipping charge of Rs. 45 plus 10.3% tax applicable per address you ship to in India