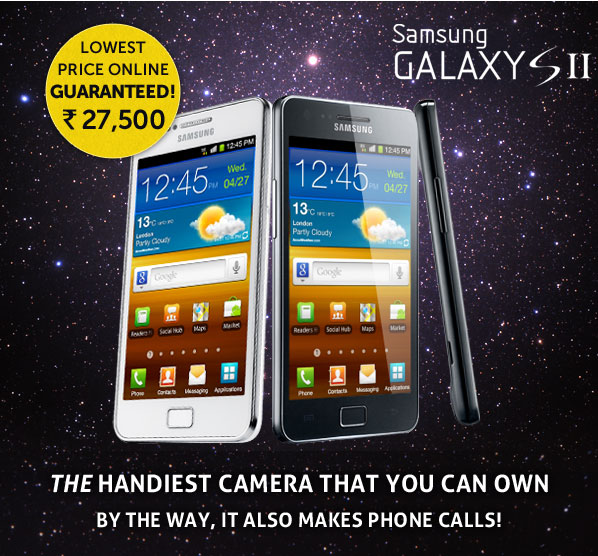 Update: There has been a manufacturer price drop over the weekend.  The new offer price is Rs. 27,500.
For the snap happy amongst us, there's nothing more convenient then a camera phone.  But oftentimes that convenience requires a picture quality tradeoff.  Fortunately, for those that want it all, there's the Samsung Galaxy SII.
We're big fans of the Samsung Galaxy SII.  While it's not the cheapest camera phone out there, it packs a punch and goes head to head with the iPhone 4 and Sony Ericsson Xperia Arc.  And our favourite part?  It comes with an 8MP camera.
Let's take a look at the phone itself first…
First, it's beautiful to look at and hold.  The Samsung Galaxy S2 weighs in at 116g and has dimensions of 125.3×66.1×8.5mm.  The other hard to miss feature is the huge 4.3 inch Super AMOLED Plus screen which displays everything sharply and crisply.  Super light, crazy thin, huge screen.  We're off to a good start…
Now onto our favourite part – the 8MP camera…
The Galaxy S2's camera has a built-in LED flash that lets you take pictures in low light situations.  Samsung also smartly provides features such as scene settings (macro, portrait, beach, sunset, etc), the ability to change ISO/exposure/white balance and automatic metering.
Some other built in features to note are outdoor visibility mode which increases the contrast on your display screen so you can actually see what you're trying to shoot when in direct sunlight, blink detection and smile shot.
All these features work together to make sure the picture quality is pretty great – especially for a camera phone.
Sound interesting?  Find out more at the ZoomIn Camera Store.
For a limited time, the first 100 Samsung Galaxy 2 orders will come with a free 8GB pendrive worth Rs. 899.  And as with all our camera phone models, delivery is free and cash on delivery is available.