We hope everyone had a fun, safe and colorful Holi!  We recently shared some Holi Photo Tips and advice on how to keep your camera safe during the festivities.  Hopefully you found the posts useful and snapped some amazing shots.  So now the question is, what to do with all the stunning images captured?
Create a portfolio with your most impressive shots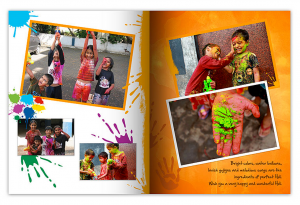 When you have an amazing collection of pictures, we love the idea of creating a portfolio just like a professional photographer might do.  A portfolio photo book is another creative use of the photo book and surprisingly for the "wow" factor created, they are a snap to make!  Especially for Holi, we've launched a Holi themed photobook so that you can easily turn your photo collection into a portfolio filled with your best shots from the day.  If you're new to photo books, make sure to check out our Photo Books FAQs.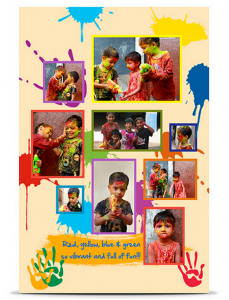 Create a collage poster… or two
Let's say you and your friends had a great time playing and everyone captured amazing moments that you want to display on your wall.  A collage poster is a fun, personalised and creative way to share those moments.  And if you and your friends have already uploaded the pictures to Facebook/Instagram/Picassa/Flickr, there's no need to upload any photos.  You can directly access the photos from inside our product builder.
Select your favorite photos and try out our new Colour Burst collage poster.  We not only have matte and non tearable options, but magnetic posters as well.  Our collage posters now start at only Rs. 99 so go ahead and create more more than one!
Colored Photo Mugs
Photo mugs are always a great choice for displaying your favorite moments.  But they become even more fun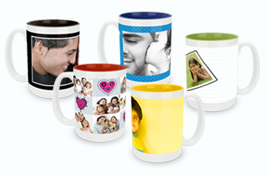 when a bit of colour is added.  Select your favorite Holi images and choose the photo mug colour that matches!  Coloured photo mugs are available in blue, green, red, yellow and black.
We hope these ideas have inspired you and have gotten those wheels in your mind turning!  To help you along, through the end of the month we have deals on express books, magnets and coloured mugs. Check out our ZoomIn Deals page for more details. If you have any questions on the products mentioned in the post, please do check out our Helpdesk FAQs.  Enjoy!